created by US
Highly sensitive sensors have been successfully used to map the electrical activity of the developing heart in embryos, in a University of Sussex study published on 10th November, which could lead to new insight into how heart rhythm abnormalities develop, the researchers say.
The team fine-tuned patented Electric Potential Sensing (EPS) technology, developed at the University, to detect the electrical signals of zebrafish embryos from just three days after fertilization. The findings have been published in the scientific journalApplied Physics Letters.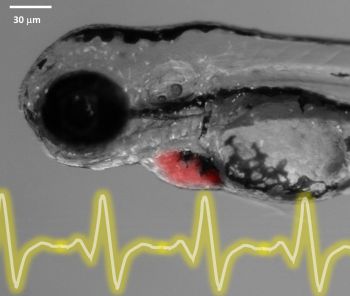 An example of the electrocardiogram mapped from the embryonic zebrafish heart three days after fertilization
This is the first time that scientists have been able to see the full picture of the electrical activity in the developing heart of such a small organism, given that currently electrocardiography (ECGs) methods only measure the heartbeat.
Zebrafish hearts are remarkably similar to those of humans, making them a good model organism…
View original post 409 more words